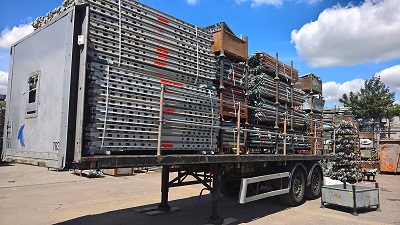 Load capacity can be increased due to self-unloading forklift ability. Stack bundles and crates at multiple levels / height for maximum payload.
Preloading onto trucks / trailers ready for orders / jobs saves time and increases the number of deliveries per truck / driver.
Safety - Using a Palinger Truck Mounted Forklift, the scaffolding can be unloaded without the need for the driver to climb onto the truck. This removes the danger and site issues of working at height.
Tower Crane Sites - When working with a tower crane the scaffolding can be placed in the required place and the crane connection completed while at ground level.
Faster unloading - The complete load can be unloaded in a short time, avoiding site conjestion and allowing your truck / driver to get to the next job.
No need to get the lorry near to the delivery location. If the site is congested, muddy or has restricted access, it's no problem with the Palfinger TMF

Transporting the scaffolding from the truck to where it's required reduces manual handling.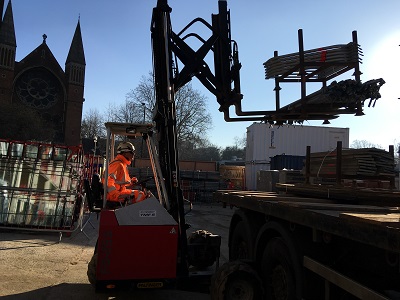 Options for oneside unloading can speed up deliveries when operating in small areas or roads when the forklift doesn't have room to access both sides of the truck
When at the required location the scaffolding can be unpacked by the erectors in their own time and from ground level.
Long Loads no problem - Palfinger 4-way steering models allow long packs to be transported through narrow gaps
Palfinger models commonly used in Scaffolding are the FLC 253 4W and F3 253 GTS 4W