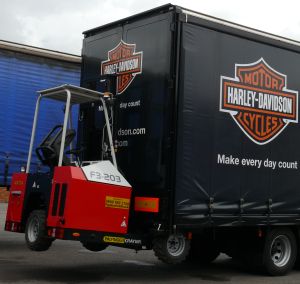 The lightest truck mounted forklift for motorbike delivery
Delivered in perfect condition.....

The Palfinger truck mounted forklifts  are ideally suited to the delivery of motorbikes.

Ergonomic design of the  controls and the hydrostatic transmission allows the driver to have precision in every movement.

Often motorbikes are delivered in urban areas such as streets and car parks where space is restricted.   This proves no problem for the Palfinger with the perfect combination of all-round visibility and optimum manoeuvrability.  

These attributes of the Palfinger allow motorbikes to be delivered easily and in perfect condition.
Assembled Motorbikes in special stillages  
Motorbikes in shipping boxes