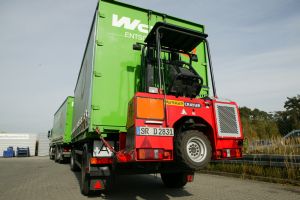 The Palfinger is unloaded and ready for work in less than 1 min
No Manual Handling - The collection vehicle delivers an empty container and collects the full container of tyres for recycling. The Palfinger swiftly collects the tyres which is a benefit to both the customer through convenience and offers an efficient logistics operation.

The Palfinger is used to access the customers premises so the collection vehicle can be parked in the most convenient place. This can allow larger volume trucks to be used for improved efficiencies.
Using a Palfinger Truck Mounted Forklift provides faster more efficient tyre recycling collections while providing improved customer service.