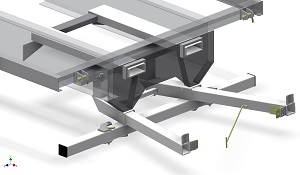 Beam Mounting
Complete Service - Bennett Engineering Design and Manufacture all brackets in-house. This provides an off the shelf service for standard brackets.
Kits - Mounting kits can be supplied in kit form to be fitted by customers, body builders and trailer manufacturers

Fitting Service - Bennett also provide a mounting bracket fitting service. Our engineers have the experience to provide a first class fitment. We can also accomodate extra work for example chassis extensions (e.g. when removing a tail lift), curtain tensioner alterations and bespoke fitments. Our service is complete including painting and electrics for the truck / trailer lights and fitting the susie socket to power the TMF lights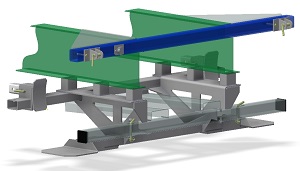 Smooth Ride Chain Mounting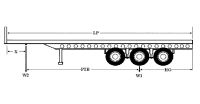 Perfect Match - Getting the right TMF / vehicle combination is vital, not only for being sure of a good investment but also Safety. Get the wrong combination and there is danger of using a vehicle in an unsafe condition, for example too little front axle weight will lead to understeer, especially in poor road conditions. Each TMF is designed to for a specific mounting type, trying to fit a TMF on the incorrect mounting can be dangerous. If you need help, contact us
Calculations - To make sure of a perfect match between vehicle and truck mounted forklift we can perform calculations on proposed combinations. Furthermore years of TMF experience that we happy to pass on.